Chapter 16: Page 424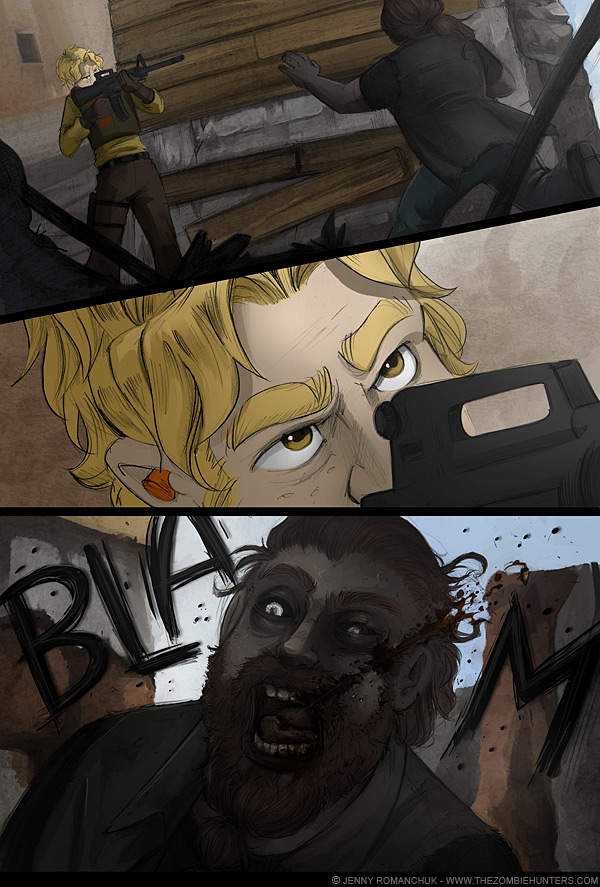 The original drawings for this page can be purchased
here!
Posted on 20121119
I really had fun doing the last panel.
Did you know that bullets tumble? :O
Notice:
Our store is temporarily offline. You'll be redirected to our Black Moth Design site, where you can get digital copies of book 1 and the art pack.

All our physical merch is offline now, for a couple of reasons.

First, we've had a lot of issues with customer satisfaction. Orders were getting lost, or got delayed, and that's not something we want to have happen. We want to get those problems straightened out before we sell anything more- it's no good to keep doing what isn't working very well.

Second, this is part of some of our big news! Greg and I have now established our new company! It's called Black Moth Design, LLC, and we'll be using the new company to market all my comic stuffs. The new company will handle all TZH's marketing, as well as my next comic that I'm being super sneaky secret about ;)
In order for us to do this, though, Greg has to hand-count all the inventory of all the products that TZH owns. Then we can turn over the ownership of all that material to the new company- but to do that, we gotta have an accurate inventory. So while that's going on, we can't sell anything physical, or it'll mess up our numbers.

For everybody who's still waiting on an order, or who's got a problem with a missing order, you will get your order, and it'll probably still say The Zombie Hunters, USA on the invoice. The new invoices will be made up once I get a new letterhead designed, and they'll be going out with orders when we reopen the store after all the inventory is done.



Original script for 11-19-2012:
This script may not match the finished comic! It will, however, contain the original spelling errors and other mistakes.
Zombie lurches at Milo--Milo shoots and misses.