Chapter 2: Page 53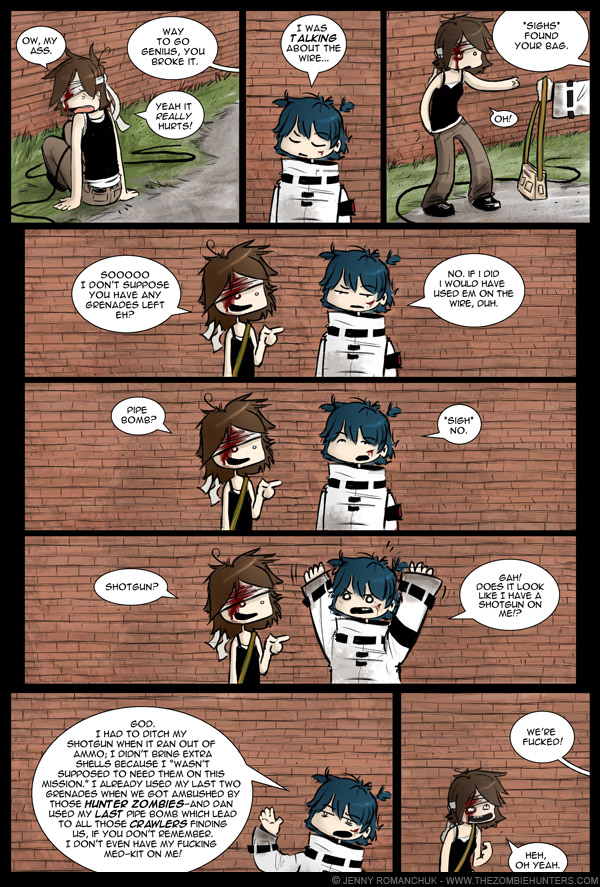 The originals for this page are not yet available.
53 - Foo
Posted on 2007-01-05 23:43:34
BRICKSHOLYCRAP.
I am like this in real life though, I pity the foo who travels with me.
Original script for 01-05-2007:
This script may not match the finished comic! It will, however, contain the original spelling errors and other mistakes.
Jenny:
Ow, my ass.
Sammie:
Good going, genius, you broke it.
Jenny:
yeah.... it really hurts.
Sammie:
I'm talking about the rope.
Sammie:
[holds out bag to Jenny, who takes it]
Jenny:
[rubs butt and stands up] I don't suppose you have any grenades left, eh?
Sammie:
Nope. Or else I would have used them while we were on the wire, duh. [Zombies are getting' closer]
Jenny:
Pipe Bomb?
Sammie:
Nope.
Jenny:
What about your shotgun thing?
Sammie:
Does it look like I have a shotgun on me, Jenny?
[Jenny looks at Sammie speculatively ]
Sammie:
[rolls eyes]I had to ditch my shotgun when it ran out of bullets, I didn't bring extra shells because I wasn't supposed to need it on this mission--I already used the last two of my grenades when we got ambushed by those Hunter zombies--and Dan totally wasted my last pipe bomb and took out half a city block! I don't even have my fucking med-kit on me.
We're fucked!
Jenny:
Heh. Oh yeah. Man, eaten by a bunch of crawlers, how embarrassing. Time to improvise!
Sammie:
Hey! Is that your shovel? [Sticking out of zombie who is stumbling around.]