Chapter 3: Page 81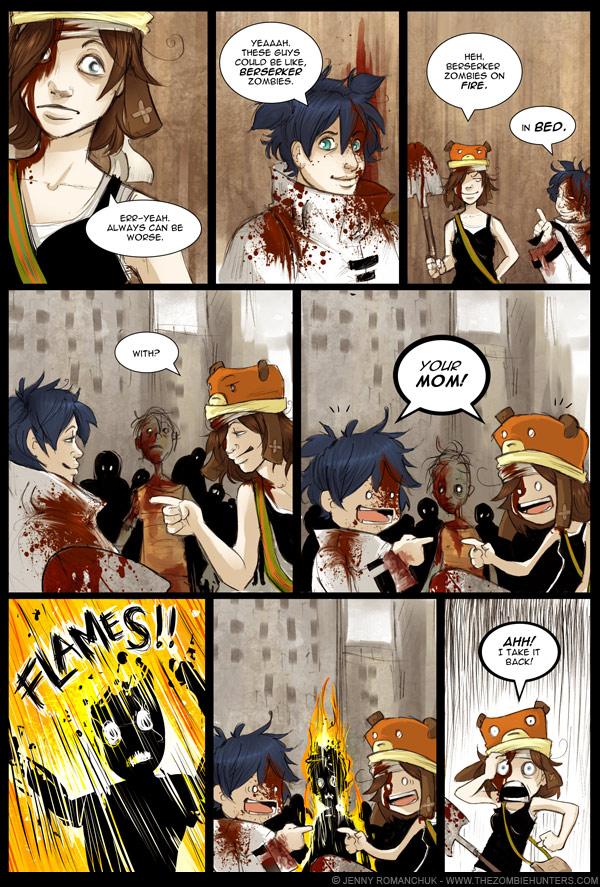 The original drawings for this page can be purchased
here!
81 - Cards!
Posted on 2007-08-02 00:16:55
...Most people don't make fun of Berserkers like that that...
Good thing that zombie wasn't one xD
This joke was like three years in the making...
But a joke is like a fine wine, it only gets better with age!
Wait...no. Ah, never mind haha.
Oh! And another thing,
check this out.
Was commissioned by Jonathan Lavallee to do the art for this EONS ago, and I never bothered to, like, tell people about it. Its a spiffy card game, so take a look! (my art here is oldoldoldoldold though) I did this when I was still a baby, I wasn't even in college yet haha. Nrrghh.

You can purchase this game here!
(Pssst, buy it!) :D
Original script for 08-02-2007:
This script may not match the finished comic! It will, however, contain the original spelling errors and other mistakes.
Jenny:
Err yeah[grins] Yeah and these guys could be like, Berserker zombies.
Sammie:
[Grins at the sight of her friend being cheerful] Berserker zombies on fire.
Jenny:
In bed!
Sammie:
With?
Sammie &
Jenny:
Your mom!
FLAAAAMES!!
[Sammie and Jenny looking horrified]
Jenny:
Ahhhh! FUCK I TAKE IT BACK!