Chapter 9: Page 239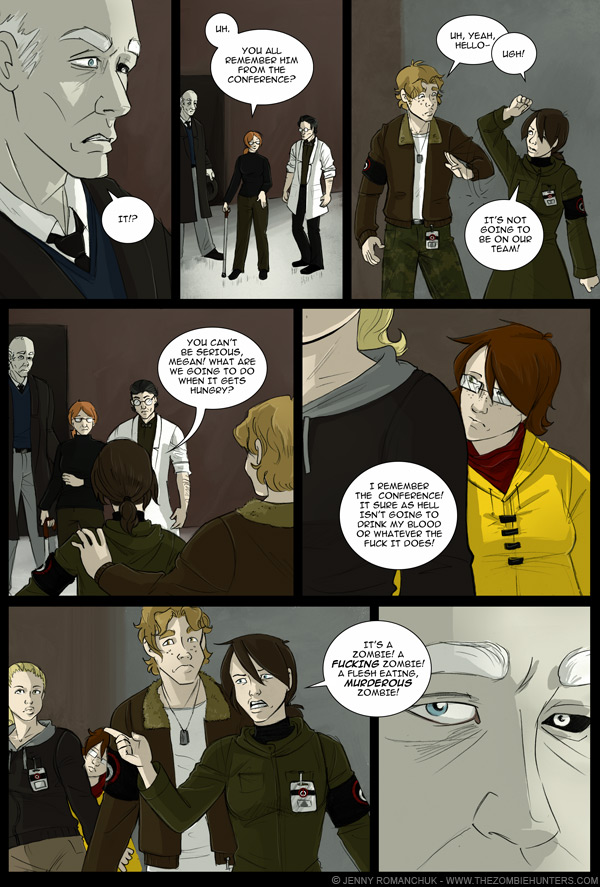 The original drawings for this page can be purchased
here!
239 - First impressions...
Posted on 2010-02-25 00:00:50
First impressions were never that girl's strong point.
Going to have some more webcomic guide-stuff up on Monday :) Was too busy today to think of anything cool. Have any suggestions on what Monday's topic should be?
For those of you wanting a Red Halo patch, Greg's got another new sample from the manufacturer, and he'll be bringing it to me in Canada this weekend. If it looks good, we'll be able to have those patches made soon, too!
Original script for 02-25-2010:
This script may not match the finished comic! It will, however, contain the original spelling errors and other mistakes.
Charlie:
It!?
Megan:
[puts a hand on Charlie] You all remember him from the conference?
Milo:
Uh, yeah, [goes to introduce himself] Hello--
Jenny:
[Jenny pipes up] He's not going to be on our team! You can't be serious, Megan! What are we going to do when it gets hungry? I remember the conference--it sure as hell isn't going to drink my blood or whatever the hell it is it does--it's a zombie! A fucking zombie! A flesh eating, murderous zombie! [to Charlie] How many people have you killed before you turned into Half-life-atron!? What's your kill count? I'll tell you mine if you tell me yours.
See, he really IS a battle-bot!