Chapter 11: Page 296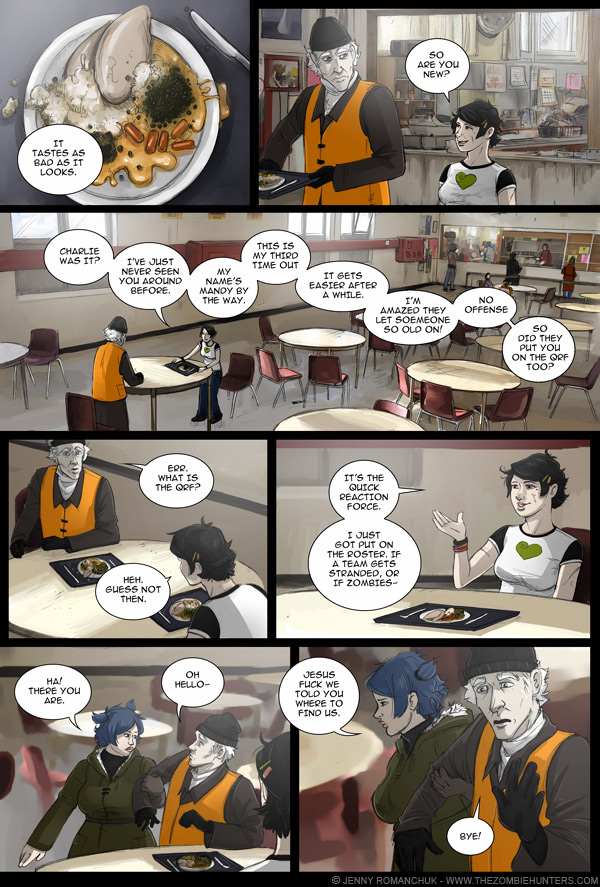 The original drawings for this page can be purchased
here!
YAAAAAY.
Posted on 2011-01-24 00:00:00
By the time most of you read this, I will be on my way to live with my hubby in the states. Send good vibes everyone that this whole trip goes smoothly!
Greg says:
Jenny already packed up her computer, so she's en route. I just wanted to let everyone know- the 'preorder' period will be over as soon as she gets down here to NC, so if you want her to sign your copy of the book, you've only got a couple of days left! Once she gets here we're going to end this overly-long preorder period, and I'll be shipping everything out. Any orders made after that point will go out right away, but they won't get signed. Grab a book order here!
Original script for 01-24-2011:
This script may not match the finished comic! It will, however, contain the original spelling errors and other mistakes.
Charlie meets a new person, and makes a friend!
[put in some dialogue]
Mandy: Did they put you on the QRF?
Charlie:
What's that?
Mandy: The QRF is the Quick Reaction Force. If a team gets stranded or if zombies overwhelm them, then the QRF comes to rescue them. I just got put on the roster.
Sam:
Ha! There you are!
Charlie:
Oh, hello!
Sam:
Jesus fuck- we told you where to meet us!
[Charlie gets dragged away]