Chapter 11: Page 328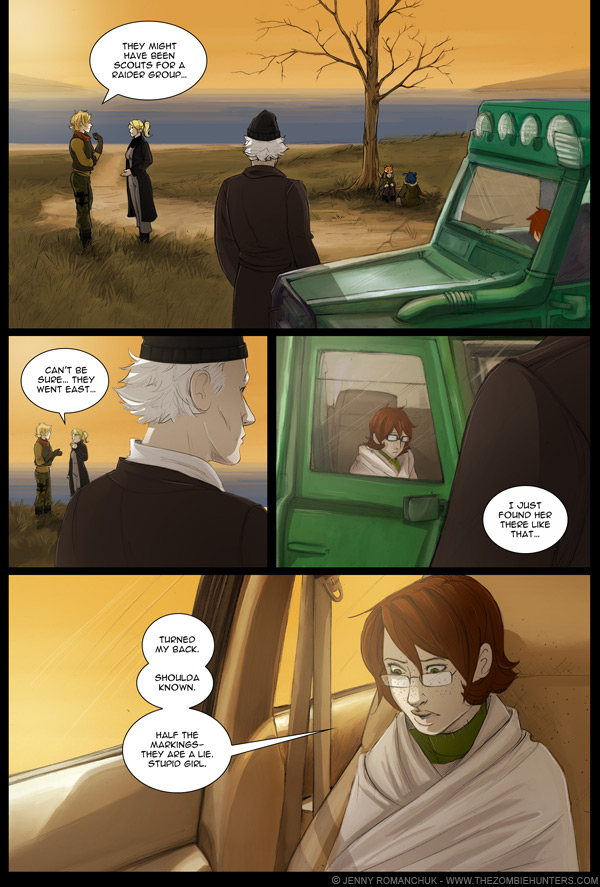 The original drawings for this page can be purchased
here!
I signed books and I got to see a Cadaver!
Posted on 2011-10-24 00:00:00
SO! Thursday I had the opportunity to witness the dissection of a cadaver. We went to the morgue with Greg's brother who is a med student. In this large room there were about 30 or so cadavers on tables. I put this Vicks stuff under my nose to reduce the smell, (The smell of the cadaver was rather--unforgettable) and while snapping on the rubber gloves I said "Ah this reminds me of my childhood!" Not realizing what I was referring to I got a few looks in the room. Especially from Greg and his brother, and I was all "The Vicks! The Vicks!! The Smell of it reminds me of my childhood, from colds and mom, and yeah--"
He began dissecting his cadaver lady (which was fascinating seeing all of the ligament and muscles) and then about 30 or so minutes later... while his bro was explaining stuff on a nearby chalkboard I fainted :| Greg managed to catch me though! After I came to, I dusted myself off and went back to it-- I was watching all of the students finish up but, 10 minutes later... I fainted again! Double faint! After that I had to call it quits-- because despite my interest, I could barely stand haha. GO ME!
I would also like to mention that I actually faint quite often. I faint when I see blood in real life... like about 90% of the time. I am FaintyMcFainter.
Also I am now sicker than a dog. I was fighting the first stages of a cold going in and I get falling onto the dirty floor did me in.
And I got the flu, bad.
BUT! Even with the flu, the signing on Saturday was really cool. I gotta give a big thanks to the folks at
Chapel Hill Comics
for having me there. It was great to see everyone who came out, especially a couple of guys who drove all the way from Charlotte just to see me! You guys (you know who you are) are awesome! Hopefully I'll get to see more of you all next time we run one of these!
Also, Otter (of
A Girl And Her Fed
) and Ursula Vernon (of
Red Wombat Studio
) came by, and Otter stayed the whole time and brought me some Zombie Jerky, which was really cool. When she saw how sick I was, she said I only got to look at it until I'm better. Maybe by the time you read this! (Maybe not!)
Have a good Monday everyone!
Original script for 10-24-2011:
This script may not match the finished comic! It will, however, contain the original spelling errors and other mistakes.
[You cut to the crew all together now by the car packing up and ready to leave]
Maureen is talking to Milo about Katie "They might have been scouts for a raider group…can't be sure…they went east…I just found her there like that…
[Charlie watches Katie in the passengers seat, she looks sad. The window is rolled down a bit so he can hear her mutter, "Half the markings they make are a lie anyways. Stupid girl." (Katie is referring to the spray painted symbols.)]