Chapter 4: Page 99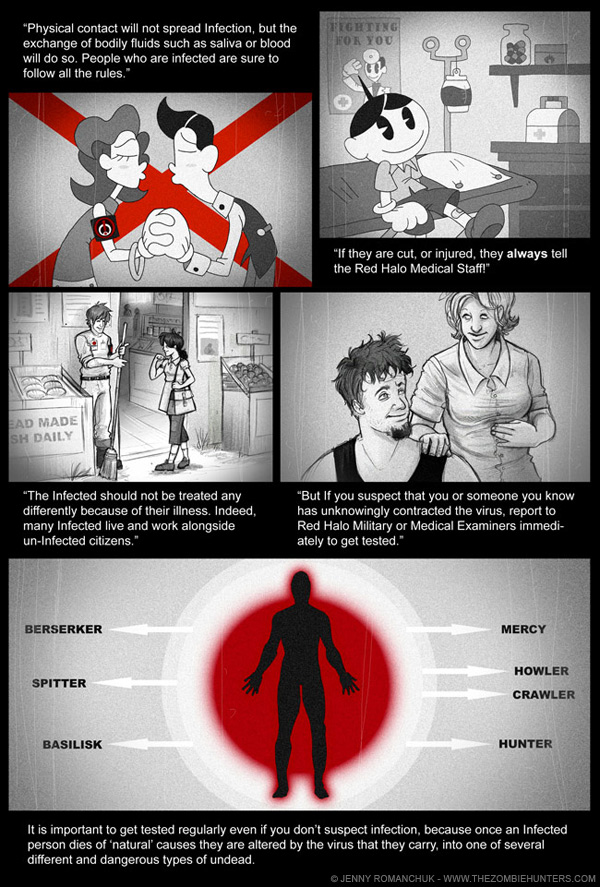 The original drawings for this page can be purchased
here!
99 - Zombies!
Posted on 2007-11-15 08:54:34
Much like AIDS, but not in a way?
CLICK HERE IF YOU WANT TO FIND OUT MORE INFO ABOUT THESE ZOMBIES!
Zombie classes REVEALED! Well, so you
think
. I WAS going to wait a while longer before I dished out the zombie class info but *I* couldn't wait that long. So I updated the
encyclopedia
, you now can find all the zombie class info there. You don't HAVE to read it, it won't affect the story any if you do or don't (information about the zombie classes and what they do will be revealed as the story develops). But I figure, why not? Read away! If you find any spelling errors let me know. xD I wanted to get into how zombies worked and all their mechanics, buuuut I decided to wait and make everyone stew longer, because I'm a bitch.
Oh...and I have never written poetry before....so I think I might suck at it? I'm not sure haha.
Oh and congrats AmadeusMaxwell from the forums. You are random "I think I might be infected guy." :D
Cartoons done by the amazing Scott Willetts
Original script for 11-15-2007:
This script may not match the finished comic! It will, however, contain the original spelling errors and other mistakes.
[Roll infected videotape]
There IS a script for this, but it's already in the comic sooo...